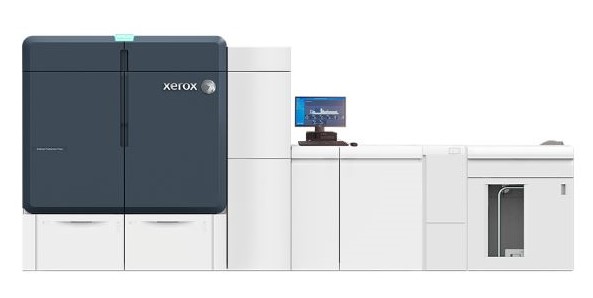 You only get once chance to make a first impression. Make the best impression every time with the Xerox Iridesse Production Press; printing more, printing better!
STEP OUT OF MEDIOCRITY & STAND OUT WITH QUALITY
Unleash creativity; unleash colour. The Xerox Iridesse Production Press unlocks a world of impressive metallic printing embellishments. Its ground-breaking, award-winning, automation technology is presented in a premier press with unmatched value. Produce stunning images in real-time with less manual effort. Offering up to six colours in a single-pass with mixed media versatility – it delivers high quality impactful prints quickly; The Xerox Way.
PRINT & DELIVER: SUPERIOR STUNNING IMAGES EVERY-TIME
Differentiate yourself from your competitors. Up-sell easily with High Definition colour affects that make the correct impression the first time, every time!
Take advantage of Xerox proprietary image quality technology with images that display smooth tone, fantastic line detail and the best gradients. Deliver on-demand complex customer requests with accuracy for maximized saleable print products.
• High-Definition resolution of 1200 x 1200 dpi x 10 bit on the front end and 2400 x 2400 dpi x 1 bit print imaging.
• Small particle, High Definition Emulsion Aggregate (HD EA) Toner and Dry Inks give a smooth low-gloss appearance.
• Ultimate speciality affects delivered with precision using the world's smallest dry ink for detail that is unmatched.
• Halftone Screens: 150, 175, 200, 300, and 600 Clustered Dot, 150, 200 Rotated Line Screen, Stochastic
MAINTAIN YOUR EDGE: QUALITY AT SPEED
The Xerox Iridesse Production Press operates at high capacity with astounding accuracy. Accomplish exceptional quality control and combine automated controls simply with Xerox EZ Check.
Automatic inbuilt controls correct common print issues to ensure correct density uniformity and image transfer on every page. The internal belt fuser maintains image quality irrespective of finish or texture demands. Sheets are de-curled and cooled to prepare them for error-free side two imaging finishing.
• Inbuilt automatic quality controls across the full spectrum
• Print up to 120 pages per minute; 475,000 pages monthly
• Obtain exactness of alignment with automatic registration controls. Sensors measure pages to deliver registration within 0.5mm
• Auto set-up on back to front registration
EMBELLISH AND ENHANCE WITH MAXIMUM EFFECT
Colour FX technology enables short-run, quick-turn, high value applications. Indulge creativity with dynamic expressions and enhanced colour capability.
Iridesse production technology allows for 4 standard, plus two additional and optional speciality dry ink stations that can be used for application under or over CMYK or on their own.
The Iridesse is a robust press with up to six ink stations in one press pass so you can expand print possibilities. Enjoy easy to use flexibility options and change speciality dry inks in only minutes – with no hassle such that production time is not negatively impacted regardless of print batch size.
MAGNIFICENT METALLIC
• HD White, Clear, Gold, and Silver speciality inks.
Embrace the Iridescent
• Put metallic as an underlay for brilliant metallic affects. Apply metallic as an overlay to highlight and create focus affects for logo's and graphics.
AUTOMATION: ON YOUR TEAM
Go further on your business's path to digitalization with the powerful automation technology inherent in the Iridesse Press. Xerox FreeFlow Core is powerful yet scalable software that conforms to your business priorities with ease. Sort and group jobs to reap the advantages of intelligent print management. The benefits of digitalization include time-saving via the reduction of effort required and accelerating the way you process demanding print jobs. Use Iridesse technology to decrease wastage and increase the effectiveness of your best resource; your human one!
• Maximize productivity to produce more
• Increase ROI
• Pre-schedule jobs for ideal time management
• Transfer manual off-line processes to efficient in-line production
• Achieve short turnarounds
• Reach sustainability goals and environmentally sound resource management
• Get jobs right the first time
PRINT MORE: NO LIMIT ON OPTIONS
The Iridesse features Mixed Media Xceleration capability; this patented, integrated Xerox technology permits the ultimate in paper versatility while maintaining first rate production performance.
• Mixed or speciality jobs
• Range of 52gms up to 400gms
• Coated or uncoated
• Postcards, banner-sheets, A3+paper, and much more
FINISH FIRST
Take advantage of a wide array of in-line finishing options that are efficient, automatic and eliminate manual after-print processing. Deliver first-rate products to clients that are high value and raise sales with more agility in diverse printing applications that include high-quality book finishing.
• Innovative Xerox Crease and Two-sided Trimmer
• Production Ready Booklet Maker Finisher
• Xerox Squarefold Trimmer Module
• Plockmatic Pro 50/35 Booklet Maker: including saddle stitching and three sided stitching
MOVE BEYOND YOUR LIMITS
NCX is a licensed Xerox Concessionaire supplying globally recognized award-winning Xerox technologies within South Africa. Our team delivers first-class client support, staff training and much more. We specialize in customizing Managed Print Services that match your business requirements and objectives.
Contact NCX industry experts today and discover more about how Office Automation & MPS holds the power to unlock business productivity.
• Contact Us for a Workplace technology, systems and productivity evaluation.
• Contact us for a Free Quote on the Xerox Iridesse Production Press.
Connect with NCX via Facebook, Twitter, Instagram & LinkedIn