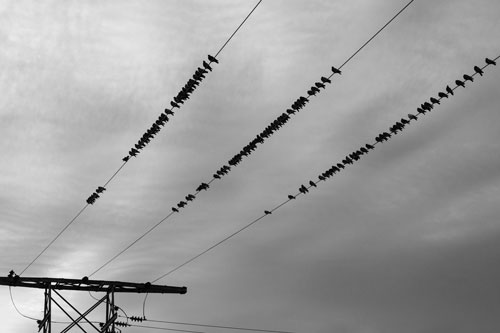 Introduction to VoIP
VoIP is a communication system that utilizes the internet for phone and video communications. It offers businesses a flexible digital alternative to traditional telephone communications.
NCX is a technology specialist and supplier of VoIP voice data services.
Already convinced that VoIP is the correct solution for your business? Find out what does a business require to roll-out VoIP for maximum impact?
BUSINESS ADVANTAGES OF VOIP
VoIP allows for key benefits for business of every size. New improved technologies and offerings allow small and medium size business take advantage of sophisticated communications portals that previously were only available to enterprise-sized businesses.
• Multiple Calls: No more one call per line limits. VoIP enables multiple calls simultaneously; this includes conference and group calls. Empower business communications between employees and with clients to unleash the true inherent value of collaboration!
• Reliable: VoIP supplies clear global communications that work around the clock and don't let you down. VoIP is robust, however, it does rely on the stability of your broadband connection – click here to learn how to implement Connectivity Fail-safes for 100% uptime.
• Scalable: VoIP services can be tailored for a perfect fit! Pay for the service that suits your business now and scale it as you grow! When a new staff member is hired, simply add an additional line. When restructuring occurs make immediate changes that reflect the shifting priorities. VoIP is entirely customizable to allow your business the ultimate in flexibility.
• Portable & Secure Mobile Remote Access: Connect and communicate from remote locations. Access business data, video and audio from anywhere in the world! VoIP frees staff from telephone wires and the traditional office setting by permitting them to access to company communication portals via secure mobile apps. Rather than employees being out of reach when away from the desk, VoIP transforms their mobile phone or device into a fully functioning business line. VoIP delivers freedom and independence while fostering strong lines of communication. For more information regarding overcoming Connectivity & Security concerns of Working Remotely & The Mobile Workforce – click here.
• Minimal Capital Investment (No on-site hardware): VoIP relies on a broadband connection. Unlike traditional office phone setups it does not require extensive hardware purchases; this lowers the barrier to entry and is a major factor in the growing adoption of VoIP technology among smaller-sized businesses. VoIP is an affordable alternative that creates new options without breaking the budget.
• Reduced Maintenance Cost: Save money with VoIP. Not only is the initial buy-in approachable, the bare minimum of necessary hardware means that you can do away with costly on-going maintenance requirements that are inevitable with traditional phoneline communications. In competitive markets, VoIP carries financial incentives from the onset and excellent value over time.
• Integrated Communication: Harness trends and reap the rewards of an integrated communication network that unleashes your company's true growth potential; enhance customer experience and employ automation to deliver rapid response. VoIP features can embed artificial intelligence to serve business needs. One example of this – is using AI to meet common customer questions thus freeing-up your employees for more complex tasks that humans remain best at!
• Abundant Features: Explore a wide variety of features such as fax, caller ID, call waiting, call blocking, call forwarding, directory services, last number redialling, speeding dialling, SMS and area code selection. Your VoIP Service Provider should allow you to select & pay for only what you need & use.
BUSINESS TRENDS IN 2019
Is your company currently leveraging these VoIP-related business trends?
• Profit from ultra-fast internet with cheaper data prices that are decreases VoIP subscription costs even more! To learn about connectivity failsafe systems for 100% uptime – click here.
• Enjoy enhanced support that is increasingly available through apps that enable high-end functionality for users.
• Use your data as an insight asset. Advanced interfaces can combine data in sophisticated ways for efficiency, savings and increased effectiveness.
• Allow Artificial Intelligence to make an impact on customer experience. AI is capable of providing data insights and developing client-service bot innovation!
• New opportunities are being created as VoIP merges with the IoT (Internet of Things) for highly customizable, lightning-fast connected applications.
What does a business require for VoIP? Find out in this NCX article.
THE CORRECT SOLUTION FIT, THE 1ST TIME!
NCX is the professional Office Automation partner that provides an expert evaluation to ensure that you start with the correct VoIP system from the outset.
Save the trouble and the unnecessary expense of re-doing or receiving the incorrect system that leads to your business losing energy, profit and momentum.
Benefit from our skilled support team that equips your staff with expert training and on-going assistance. Our team members are knowledgeable, friendly and accomplished.
• Learn about the advantages of award-winning devices like the Yealink CP960 Conference Phone.
Contact NCX today.
• Office Consultation complete with constructive feedback regarding efficiency and effectiveness of current office technologies as well as congruent alternatives.
• A free quotation of VoIP Infrastructure across the spectrum (including hosted VoIP)
Support you can trust, training to empower excellence and solutions that make for a better way to do business!
Connect with NCX via Facebook, Twitter, Instagram & LinkedIn